Special Offers
Six Flags is proud to bring you these special deals along with offers from our partners. And don't forget to sign up to receive email updates about news, events and discounts from Six Flags New England.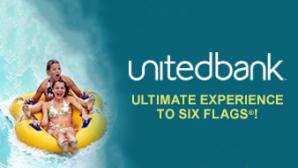 Six Flags Ultimate Experience from United Bank!
Enter now for a chance to win the United Bank Ultimate Experience to Six Flags New England including One (1) Ultimate Experience including, four (4) single-day general admission tickets to Six Flags New England, front-of-the-line privileges, complimentary parking & private cabana inside Hurricane Harbor for winner!