Newsroom
Media Contact Information
Six Flags White Water Public Relations Team275 Riverside Parkway SWAustell, GA 30168
For media tickets or for media inquiries, please contact us at sfogpr@sixflags.com for the quickest response.
Information about Six Flags White Water
Beat the heat at Six Flags White Water, the Southeast's largest water park and recently voted one of the top 10 water parks in the nation.
New in 2015 is Dive Bomber, an electrifying capsule water slide with a trap door that will release riders straight down at nearly 90 degrees at speeds of more than 40 miles per hour for a zero-gravity experience. Dive Bomber will take the current Cliffhanger attraction to new heights in 2015 and will open in the spring. Dive Bomber will be the tallest slide ever built at Six Flags White Water.
Typhoon Twister will celebrate its third season in 2015. This giant slide that sends riders down a five-story drop before blasting into a 67-foot bowl. Typhoon Twister is the first of its kind in the state and the largest single investment in the park's 29-year history.
Six Flags White Water is located off Interstate 75 just a few miles north of Atlanta in charming Marietta, Georgia. The park boasts more than 30 slides, including three interactive children's areas, a huge wave pool and lazy river. Thrill seekers can experience Tornado, a gigantic funnel slide or brave the guest-favorite Typhoon Twister.
Important Resources
Six Flags, SFWW and SFWW Ride/Attractions Logos
Six Flags White Water POV Videos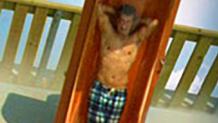 Ten Story Super-Thrilling Water Slide to Make a Giant Splash at Six Flags White Water in 2015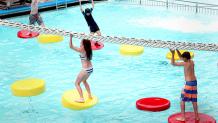 Six Flags White Water to Debut Dive-In Movies
Guests sit back in their favorite lounge chair and watch one of the eight movies on a 20 foot wide screen.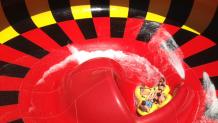 New Thrills for 2013
Typhoon Twister to debut in late Spring 2013
WIN PARK TICKETS

ENTER DAILY. INSTANT WIN!

Enter Now!