Newsroom
COMING THIS SPRING: Six Flags Over Texas children's area of the park will debut an all-new refreshing expansion. Bugs Bunny Boomtown will be the perfect place for thrill-seekers-in-training with tons of new features.
THIS SUMMER: For a limited time during the during the summer, dare to take on an all new experience ride — BATMAN™ The Ride BACKWARDS!
Six Flags Over Texas features is home to more than 100 thrilling rides and attractions including adrenaline-filled roller coasters like Titan, MR. FREEZE: Reverse Blast and the New Texas Giant. We also have a variety of family-friendly shows and entertainment at the home of the Biggest Thrills in Texas..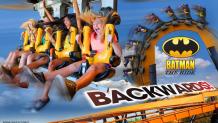 Six Flags Over Texas Announces BATMAN™ The Ride Backwards
The popular ride celebrates 15 years by doing a gravity-defying role reversal
WIN PARK TICKETS

ENTER DAILY. INSTANT WIN!

Enter Now!