Holiday in the Park at Six Flags Over Georgia
Holiday in the Park Makes Its Magical Return!
Holiday in the Park — named One of the Best Christmas Events in Georgia — is back for the 6th year in a row on select days from November 24-January 5 at Six Flags Over Georgia. It's the most magical time of the year filled with enchanting experiences that will help create those special family fun outings again and again. Our breathtaking winter wonderland features a variety of delightful and interactive activities to help capture the holiday spirit.
HIP Ticket Sale Late HIP Offer
LIMITED TIME OFFER: Buy individual Holiday in the Park tickets for as low as $24.99
Holiday in the Park runs through January 5, 2020. See the operating calendar below for dates and times.
HIP Sizzle Video SFOG 2018
SFOG HIP Featured Attractions
There are always festive surprises at Holiday in the Park. The elves are making the plans and will be sharing them soon. Check back to see what's waiting for you under the tree.
Embrace the holiday spirit!
From visiting with Santa to taking a stroll through out 14 themed areas with more than one million LED lights, our Holiday Attractions are unique and only available during Holiday in the Park.
Ring in Holiday Cheer with sing-a-longs and spirited Holiday shows. Don't forget to get your picture with the Looney Tunes crew in their festive attire!
Holiday in the Park is a time of unique food and special treats. Create your own s'mores, enjoy a traditional holiday meal, warm up with a cup of hot chocolate or cider, roasted nuts or a breaded soup bowl. Try a twist on our typical fare with red velvet funnel cakes or apple cinnamon and pumpkin spice pretzels. Do some shopping between shows to find the perfect gifts for everyone on your list.
Go for a spin on our thrill rides and top-of-the-line coasters during Holiday in the Park. While some prefer to push the edge on our most daring coasters, we have plenty of rides the whole family can enjoy together.
Here's everything you need to make your visit to Holiday in the Park magical!
November 24-January 5
Enjoy Over

45

Rides, Shows & Attractions
•
•
•
Unlimited Visits the rest of 2019 and all 2020
•
•
Includes BOTH Fright Fest
and Holiday in the Park admission
•
•
Includes admission at ALL Six Flags theme parks
•
•
Free Tickets for friends on Celebration Days
•
•
Parking included (regularly

$25

/visit)*
•
•
Preferred Parking every visit*
•
Earn points towards rewards & prizes
•
Unlimited soft drinks every visit*
•
Up to 50% off almost everything in the park*
•
Skip the line passes every visit*
•
Complimentary s'mores at Holiday in the Park*
•
Over 50+ valuable Member benefits*
•
Parking (regularly

$25

/visit)*
Not Included
Not included**
Includes Preferred
Season Parking
Buy During Our Sale And You'll Get:
Save up to

40%


off the gate price

Free Gold Upgrade and Free Parking**

No fees & 3 Free Months

Tickets
Season
Passes
Membership

*Membership benefits vary by level. See Membership page to see what benefits come with each level!


**Gold Season Passes include Parking. Buy season passes during this sale for free upgrade to Gold level.
Plan your visit to Six Flags Over Georgia by viewing our Park Map. You may also pick up a copy at the Front Gate on the day of your visit.
Here are some helpful tips for planning a festive trip to Holiday in the Park.
Park is open from November 24 through January 5 for the final days of Holiday in the Park, including New Year's Eve and New Year's Day.
Download our Holiday in the Park guide or pick one up as you enter the park.
Snag a great deal online: buy your tickets online before your visit. All the best deals are right on our site.
Check our Events page to see a listing of special events being held during Holiday in the Park such as guest performances by visiting choirs.
Arrive early. There's a lot to do and you'll want plenty of time to do it all without feeling rushed.
Bundle up! Yes it's Georgia, but it's also technically winter and you never know when Jack Frost will decide to blow into town for a visit. At least bring a jacket or a sweater for the chilly evenings. If you don't want to lug it around while the sun is out, you can store it in one of the lockers located near Guest Services.
Come hungry. At least leave room for a treat or two or three or four. There are so many delicious holiday goodies at the park during this time of year that you'll be kicking yourself if you don't have enough room for a bite or two.
We have an amazing line-up of holiday shows so pick up an entertainment schedule as soon as you walk through the front gate so you can plan your day and make sure you see them all.
If you decide to turn your visit into one big happy family outing, make sure to designate a meeting place. There's so much to do, see and enjoy at Holiday in the Park, that members of your group are bound to get distracted and accidentally walk away.
Eat at non-traditional hours to save time. There are lots of tasty holiday treats at the park so things can get a little hectic during meal times. Better yet, since it's the holidays anyway, eat non-traditional meals: Santa loves seasonal funnel cakes with hot chocolate. He says it's a very yummy dinner that he looks forward to every night.
Our park is a smoke-free environment so to stay off of Santa's naughty list, we recommend smokers only smoke in the designated smoking areas.
Scream your head off on Goliath or Dare Devil Dive. Either of these gut-wrenching coasters is sure to relieve any and all holiday stress.
Leave late. The views from our coasters are breathtaking at night and the rides are amazing.
Check any family grudges at the front gate. Smile and have a great time. It's the holidays!
Our physical location is 275 Riverside Parkway, Austell, Georgia, 30168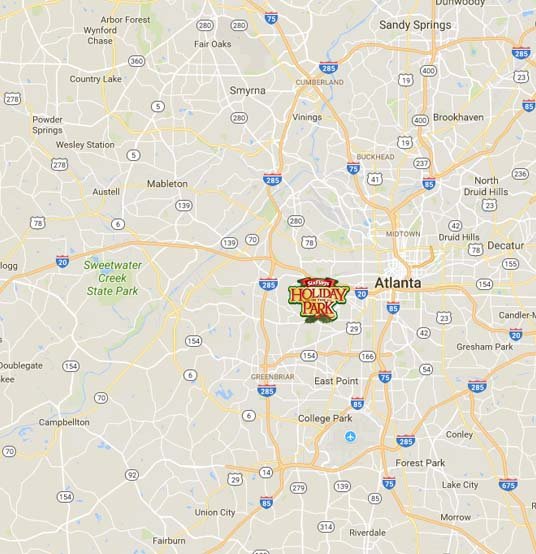 Lodging Information
www.ga511.org
Georgia 511 is a free phone service, hosted by the Georgia Department of Transportation. Real-time traffic and travel information is provided 24 hours a day, seven days a week. The service offers information for all state routes and interstates and gives estimated travel times in metro Atlanta. Callers can speak to live operators (for October only, undead operators available) to report incidents or request assistance, or connect to other services such as transit partners, airports, tourism information and 511 systems in neighboring states.
FROM MACON
Go northwest on I-16, to I-75, to I-285 North, to I-20 West. Follow signs to the Six Flags exit.
FROM AUGUSTA
Go west on I-20. Take exit 47 or 46A.
FROM BIRMINGHAM
Six Flags is located on Interstate-20 East. Take exit 46.
FROM MONTGOMERY, ALABAMA
Travel east on I-85 to Georgia, to I-285 North, to I-20 West. Take exit 47 or 46A.
FROM GREENVILLE, SOUTH CAROLINA
Go southwest on I-185, to I-85 to Georgia. Continue on I-85, to I-285 West, to I-20 West. Take exit 47 or 46A.
FROM NASHVILLE, TENNESSEE
Go east on I-40, to I-24, to Georgia. Follow I-24 to Tennessee. Continue east on I-24, to I-75, to Georgia. Take I-75, to I-285 West, to I-20 West. Take exit 47 or 46A.
TRAVEL TIPS
It's always a good idea to avoid downtown Atlanta traffic. The busiest times are between 6 and 10am, and 4 and 7pm.
For up-to-date traffic information in the Atlanta area, be sure to check the Georgia Department of Transportation's website.
PUBLIC TRANSPORTATION
Cobb County Transit (CCT)
CCT offers a shuttle service to the park. For a detailed, up-to-date route schedule, visit the CCT section of the Georgia DOT website. Route 30 serves the park Monday through Saturday.
MARTA
MARTA also offers a shuttle service to the park. For a detailed, up-to-date route schedule, please visit the MARTA site, or call (404) 848-5000.
Holiday in the Park
If I buy a 2020 Season Pass now, can I still use it to visit Holiday in the Park?
Yes, if you purchase a 2020 Season Pass now, you can use it for unlimited visits the entire season including Holiday in the Park.
When will the park be open?
Six Flags Over Georgia is open for Holiday in the Park weekends and select days. For specific dates and times please view our operating calendar.
Will all of the rides be open?
Many of your favorite rides will be open during Holiday in the Park. While some of our attractions will be closed, we have added seasonal attractions and entertainment options for everyone in your party to enjoy! Certain rides and attractions may close temporarily during inclement weather.
What special food is offered during Holiday in the Park?
At Six Flags Over Georgia we offer a wide variety of specialty food during Holiday in the Park. From sweet to salty, you will find food offerings to satisfy all of your cravings. Warm up with a cup of hot cocoa and sample traditional holiday treats.
Annual Flash Sale
Will you be open Thanksgiving, Christmas Eve, Christmas Day and New Year's Eve?
We're closed on Thanksgiving, Christmas Eve, and Christmas Day, however; we will be open on New Year's Eve.