Bizarro
What if a superhero had all the power of SUPERMAN, but decided to use it for evil? Welcome to the twisted world of BIZARRO, SUPERMAN's dark evil twin. Let's see if you've got the nerve to face this dangerous and demented foe!
5,400 feet is a lot of track, and plenty of time for you to get to know BIZARRO and the backward "S" stamped on his chest.
BIZARRO hasn't got the charm part of being a super hero down yet and just bluntly cuts right to the action. Let's kick things off with a 221-foot drop into an underground tunnel. Then BIZARRO rockets you up and down through the impossibly steep hills of BIZARRO world, which is not the nicest place to visit.
After a pair of brain-scrambling helixes and so many ups and downs you won't remember which way is which, BIZARRO will shoot you through a terrifying tunnel of white mist, in the shape of his stolen SUPERMAN shield. At night, this BIZARRO tunnel lights up in the most dementedly beautiful display you've ever had the pleasure of bulleting through at 77 miles per hour. You've never done anything like this before? Yeah, no one has.
As you catch airtime over crest after crest, you'll probably start to figure out what it feels like to have super hero strength – with and without gravity. All in all, you'll plummet through two fog tunnels, a spaghetti bowl design, and high bank twists and turns through structures and shields.
But tell that villain you've got some moves of your own by now, darting towards the insane finish as fast as a speeding… well, you get the idea.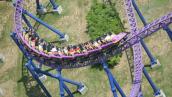 What Our Guests Say
"Bizarro is a great ride for people that love that feeling you get in your stomach when you go down a giant hill and it is definitely one of my personal favorites in all of New England."

"Been to amusement parks all across the country and Bizarro is still one of my absolute favorite coasters. Fast, smooth and fun!"

"Bizarro was amazing. The thrill of not knowing when your about to drop.. And then suddenly "Ahh!" And it feels like your heart drops. You whip into action and speed into a fast ride. It's an adrenaline rush and amazing ride I will definitely be returning too! Loved it!"

"Bizarro is hands down the fastest thrill ride ever, and the underground element to the ride was amazing and refreshing! I would come to the park just to ride it again and again without going on any other rides!"

"As a long time roller coaster enthusiast, I have ridden them in many different places. Bizarro is one of my favorite rides because it goes smoothly, yet it is packed with thrills through almost the whole ride!"
What do you think about Bizarro?
Related Articles
Similar Rides
Nearby Rides
Nearby Dining
Nearby Shopping
WIN PARK TICKETS

ENTER DAILY. INSTANT WIN!

Enter Now!