Overview
This Changes Everything!
Six Flags is bringing ground-breaking experiences to nine parks — North America's first Virtual Reality (VR) Roller Coasters, using Samsung Gear VR powered by Oculus. Enjoy thrills like never before as some of our most popular coasters will be equipped to allow you to wear Samsung Gear VR headsets and feel the heart-pumping adrenaline of steep drops, inverted loops and powerful twists and turns as gyros, accelerometers and proximity sensors synchronize all of the action in an incredibly realistic 360-degree virtual reality world.
Whether you're soaring through Metropolis on our SUPERMAN Virtual Reality Coasters or co-piloting a fighter jet on The New Revolution, this remarkable technology is a definite game-changer. The headsets allow guests 13 and older to enter a virtual world with high-resolution imagery and 360-degree views that synchronize to the action of the coaster in a totally new, one-of-a-kind experience.
VR Locations
Season Pass Holder Exclusive Previews
Our new Virtual Reality Coasters will be open for technical rehearsals exclusively for Season Pass Holders and Members before they open to the public. Don't have a Season Pass yet? Get your Pass today and be one of the first to ride!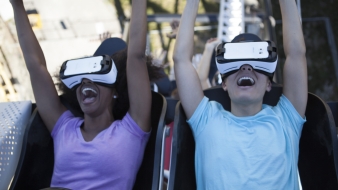 Ride Experience
Get details about how virtual technology will combine with the physical sensation of the coaster to deliver an amazing immersive experience.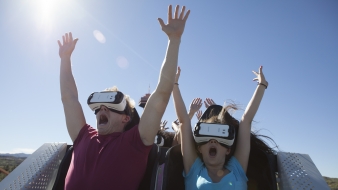 Frequently Asked Questions
Have questions? Find answers right here about how virtual reality works, headset specifics, the pre-boarding process and more..
The Gear VR headsets may not be used by children 12 and under based on manufacturer's guidelines.
© SAMSUNG ELECTRONICS AMERICA, INC. © 2016 Oculus VR, LLC