Overview
Interactive Roller Coaster Gaming
The new evolution of Virtual Reality experiences is coming to eight Six Flags parks this fall using Samsung Gear VR powered by Oculus. Rage of the Gargoyles is a chilling, futuristic battle between good and evil featuring the first-ever interactive roller coaster gaming experience.
You'll battle an army of terrorizing winged creatures as you fly over a devastated cityscape, all while shooting gatling guns controlled by your head movements.
The Samsung Gear VR headsets allow guests 13 and older to enter a virtual world with high-resolution imagery and 360-degree views that synchronize to the action of the coaster. Feel the heart-pumping adrenaline of steep drops, inverted loops and powerful twists and turns as gyros, accelerometers and proximity sensors synchronize all of the action.
Six Flags introduced North America's first VR Coasters earlier this year and now we're bringing a new storyline, new thrills and new reason to visit this fall. Get ready to fight the demons and battle your way through your fully-immersive virtual odyssey to an ending that will leave your breathless.
Locations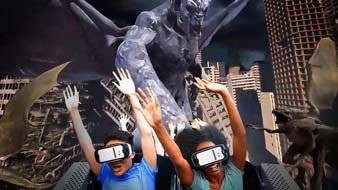 Ride Experience
Get details about how virtual technology will combine with the physical sensation of the coaster to deliver an amazing immersive experience.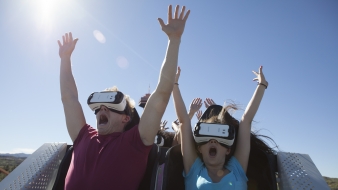 FAQs
Have questions? Find answers right here about how virtual reality works, headset specifics, the pre-boarding process and more..
The Gear VR headsets may not be used by children 12 and under based on manufacturer's guidelines.
© SAMSUNG ELECTRONICS AMERICA, INC. © 2016 Oculus VR, LLC