New Revolution Virtual Reality Coaster
This Changes Everything!
This ground-breaking new ride experience — the New Revolution Virtual Reality Coaster is now open. On northeast's first inverting Virtual Reality Roller Coaster, you'll experience thrills like never before. In partnership with Samsung Gear VR and Oculus, Steamin' Demon will be equipped with wireless headsets that, while wearing, allow you enter a virtual world with high-resolution imagery and 360-degree views that synchronize to the action of the coaster.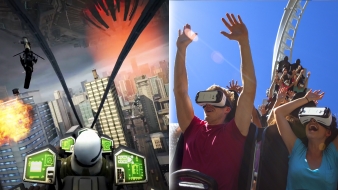 Get details about how virtual technology will combine with the physical sensations of the coaster to deliver an amazing immersive experience.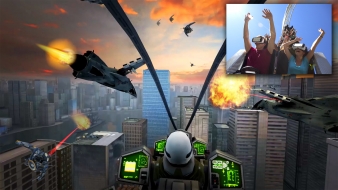 Have questions? Find answers right here about how virtual reality works, headset specifics, the pre-boarding process and more.
The Gear VR headsets may not be used by children 12 and under based on manufacturer's guidelines.
© SAMSUNG ELECTRONICS AMERICA, INC. © 2016 Oculus VR, LLC