Newsroom
NEW for 2014, Six Flags Fiesta Texas introduces Bahama Blaster! Bahama Blaster offers an adrenaline rush like no other collection of slides in the region. This newest addition to White Water Bay features four tube slides that sit side-by-side and offer a unique launching capsule system. After reaching the top of the six-story tower, guests step into the enclosed vertical capsule where the floor drops out beneath them, sending riders free-falling 40 miles-per-hour through twists, loops and coils.
Coiled and ready to strike, challenge the new EPIC Iron Rattler Coaster only at Six Flags Fiesta Texas! Get ready to plummet straight down from a height of 180-feet, roar at 70 miles per hour, snake through four wild overbanked and flip upside down on the first zero-g barrel roll on a ultra-smooth, hybrid coaster!
With more than 50 amazing rides, slides, shows and attractions including eight exhilarating coasters, Fiesta Texas is the perfect day-cation getaway that is always close to home.
Come see why Six Flags Fiesta Texas has been voted America's favorite show park with live entertainment and award-winning shows!
Go Big…Go Six Flags Fiesta Texas!!!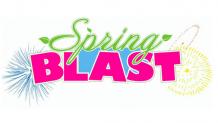 Aerial Fireworks in Bloom During Spring Blast Celebration
A colorful bloom of pyrotechnics will be choreographed to upbeat musical selections.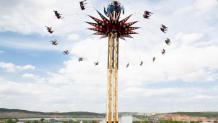 Experience Surprising Twirling Thrills On Skyscreamer Backwards
Ride SkyScreamer Backwards through Memorial Day.
WIN PARK TICKETS

ENTER DAILY. INSTANT WIN!

Enter Now!