Events
There is always something exciting going on at Six Flags! From internationally acclaimed holiday festivals to engagingly entertaining educational events to out-of-this-world live performances, our calendar is always booked with the best.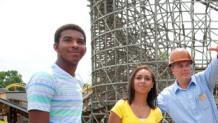 Ultimate Education Days
April 19, 26, May 3, 10, 17 & 24
We will cover Math, Science, Physics, Biology, Career & Leadership and Performing Arts.