Refillable Drink Bottles
Season Drink Bottle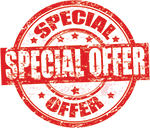 Free Refills the Day of Your Visit
Quench your thirst all season long with a Refillable Drink Bottle.
Your Refillable Drink Bottle comes with these refreshing benefits:
Valid now until the end of 2018
You can keep your bottle filled in 2018!
Save BIG All Season
Get free refills on your first visit and 99¢ refills each visit after!
Get free refills on the day of purchase and $0.99 refills the rest of the season!
Frequently Asked Questions