Special Offers
Six Flags is proud to bring you these special deals along with offers from our partners. And don't forget to sign up to receive email updates about news, events and discounts from Six Flags America.
Official Card of Six Flags
Discover cardmembers can enjoy special benefits at Six Flags. Earn 5% Cashback Bonus® through December at sixflags.com and around the park when you sign up. Plus, this summer, Discover will host 3 exclusive ride time events. Check back all year long for news on upcoming events and promotions.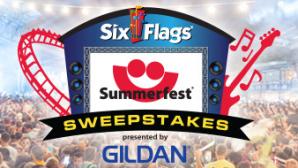 Six Flags Summerfest® Sweepstakes presented by GILDAN®
Enter the Six Flags Summerfest® Sweepstakes presented by GILDAN® NOW for your chance to win a fly-away trip to Summerfest for two, plus a day of thrills at Six Flags Great America!
Celebrate Springtime at Six Flags on May 14
Join us in celebrating Allegra Day! Head over to the park on May 14 for this exclusive ride time event where you and your friends can ride select attractions after the park closes.
Buy Now!
The newest installment in the legendary RCT franchise is available now! Buy RollerCoaster Tycoon World™ and play via Steam Early Access.
WIN PARK TICKETS

ENTER DAILY. INSTANT WIN!

Enter Now!