July 4th Fest
July 4th Fest with Six Flags and Coca-Cola!
From July 3 - July 6, Six Flags America is the premiere destination to celebrate our country, enjoy the summer and share great times with friends. Independence Day is more than just a holiday, it's the ultimate American tradition. Coca-Cola® July 4th Fest has everything you need for a star-spangled visit: exclusive ride times, fireworks all four nights, festive foods and more!
Save up to $25 when you purchase tickets online, courtesy of Coca-Cola.
Grab any Coke product and bring it to the park with your Pass or valid admission for exclusive early ride time for the entire 4th Fest celebration from 9:30 a.m. - 10:30 a.m. Each day we select some of our top attractions to get your holiday started! Get a wristband outside the front gate between 9:30 & 10:30 a.m. The Coke product must be surrendered at the time of redemption to receive early entry. Product can be full or empty. July 3 will include all Members and July 4-6 will include ERT for Diamond/Diamond Elite Members when they show their Pass at the gate.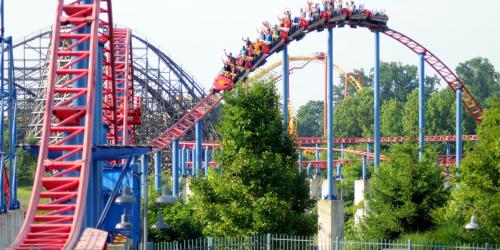 July 4 & July 6 - GOTHAM CITY
SUPERMAN: Ride of Steel
JOKER's Jinx
WONDER WOMAN: Lasso of Truth
Riddle Me This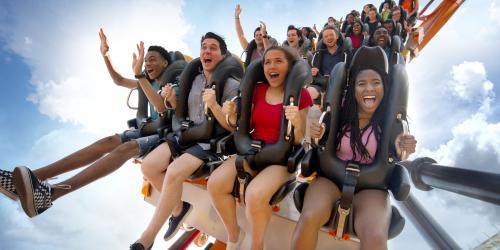 July 3 & July 5 - Chesapeake Area
All-New Firebird
ROAR
Pirates Flight
High Seas
Coca-Cola® July 4th Fest is packed with thrills and excitement you can only get at Six Flags America!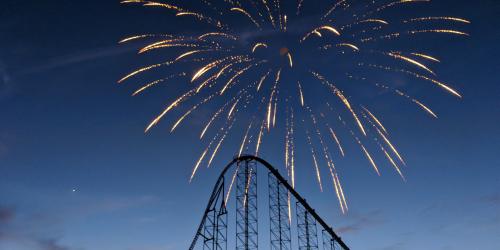 Nightly Fireworks Spectacular
Six Flags America is open July 3 - July 6 from 10:30 a.m. to 9 p.m. with Hurricane Harbor open from 11 a.m. to 7 p.m. Fireworks are lighting up the sky at 9:15 p.m. each night in GOTHAM CITY with a special high energy beats party in the Fireworks Party Zone starting at 7 p.m.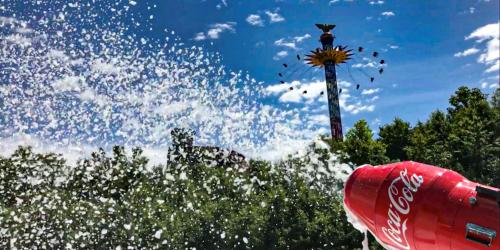 That's right! We're bringing back icy-themed foam parties to take place throughout the day, cooling off guests with beats and a live DJ! Stop by near Cyclone at noon, 1:30 p.m., 4:30 p.m., 6 p.m. & 7:30 p.m. for even more incredible fun!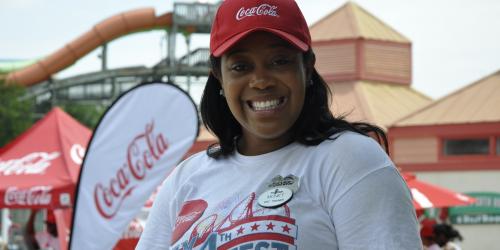 Coca-Cola July 4th Fest Cool Zone
Step right up! Join us at the Circle Stage each day from 11 a.m. to 8 p.m. for fun for the whole family. With games & prizes every 30 minutes, we're bringing the kid out in everyone. Plus, take a refreshing escape with some of our favorite over-sized games, misting tent and stick around as our favorite friends from the LOONEY TUNES stop by!
Visiting Coca-Cola July 4th Fest is easy when you buy your Tickets, Season Passes or Memberships online!
Sign Up for our Park Newsletter and Enter to
Instantly Win Two Free Tickets to Six Flags!
Sign up for our park newsletter and we'll let you know immediately if you've won two tickets to Six Flags! You'll also get exclusive discount offers, articles about new attractions, special in-park savings coupons and much more.
We promise not to spam you. There is no absolutely commitment, and we won't share, sell or rent your personal information with anyone. Unsubscribe anytime with just a couple of clicks.